A meeting was held on Saturday, 24/12/2016 in Sa'ada, attended by :
Adnan Qasim Ali Qaflah, Alekram Developmental and Charitable Foundation Executive Director
Professor Abu Nasr Baidhan , Chairman of Civil Council
Nasser Harban, Director General of Planning and International Cooperation Office.
Mohammed Al Haj, Director General of Social Affairs and Labour Office.
Abdulrahman Zrave, General Manager of Office of Education.
Abdullah Alwadi'i, General Manager of the Office of Agriculture.
Professor Ahmed Jacob, representing "the Office of Health.
Abdulaziz Al Harbi, representing "the Office of Public Works.
Tawfiq Alrazha, representing "Operational Unit.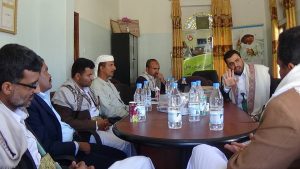 In the meeting, the survey which had been made by Alekram Developmental and Charitable Foundation in cooperation with National Council and Sa'ada Local Authority , was discussed . So that contributed to putting the finishing touches in order to write the survey results in a form of guide in order to be in use of all developmental and charitable bodies, whether local and international relevant government departments or non-governmental organizations.
At the meeting previous project steps and field survey results was discussed, as well as field teams reports and how to take advantage of the surveys conducted by some of the governorate government offices during the last period.
Earlier, Alekram Foundation launched the survey project to determine the emergency needs of Sa'ada in coordination with country government organs in the governorate in view of the utmost importance of the survey that contributes to reporting some of the suffering experienced by the governorate and the suffering of the citizens.